TAKING A DIFFERENT APPROACH TO AUTISM
Any person living or working with people with autism gets to experience what makes autism so fascinating each and every day. We experience it as we work with people with autism or provide guidance and support to them. On other occasions, we notice it in the way in which people with autism live their lives.
Many of the traits that characterise autism have their place in a family, a community, a classroom or a workplace. Others are more challenging.
Often it is about what we see. About the behaviour that is being displayed. About things that people with autism will or will not do. About what they say or try to get across in another way.
Autisme Centraal firmly believes that people with autism have a rightful place in our society, with their strengths as well as their challenges. Just like everyone else.
AUTISM IS NOT A BEHAVIOUR
Many carers (parents, teachers, community support workers, coaches, etc.) find it difficult to cope with autism when conflicts arise while living or working together. When people with autism refuse tasks, are unwilling to cooperate, seemingly do not communicate or are only displaying 'problem behaviour'.
Whether appropriate or challenging, autism is not a behaviour.
What you say or do not say and what you do or do not do is controlled by your thinking. Our brain helps us by deciphering everything we observe. This means that we always think before we act, either consciously or unconsciously. And that is where autism steps in: in the thinking.
Contrary to behaviour, thinking remains invisible. The behaviour that we see is only the tip of the iceberg. The root cause of behaviour lies hidden under the water. And that is also where autism lies.
Therefore there is very little point in reacting only to behaviour (by punishing it, ignoring it or rewarding it).
6 THE FOUNDATIONS OF AUTISME CENTRAAL'S METHODOLOGY
The methodology of Autisme Centraal helps you to take a different look not only at the behaviour of autistic individuals, but also at the way in which you guide and support them. You learn to create an autism-friendly school, community, home or work environment by keeping in mind 6 basic principles.
Autisme Centraal's Methodology is no 'one-size-fits-all' package that tells you what to do and what not to do. It is no panacea that will miraculously resolve all issues and difficulties. It does however provide valuable and clear insight that will enable you to identify opportunities. Autisme Centraal's approach is built around these six inextricably intertwined basic principles that will inspire you to provide well-considered support to people with autism. Regardless of the environment, the age and the intellectual level.
AUTISME CENTRAAL'S METHODOLOGY, A CONTROL PANEL FOR CREATIVE THINKERS
Although it does not offer a ready-to-use action plan, Autisme Centraal's methodology does provide you with a clear and reliable reference tool. We in fact use a control panel like the ones professional DJs use.
Not to be confused with the man who arrives at a wedding in the local parish hall dragging an enormous music installation behind him, but who in fact just inserts a CD in the CD drive. Or with those DJs who set sold-out dance halls ablaze, but who on the night itself do nothing more than blindly turn a knob to start a pre-recorded beat. After all, that would mean that you are basically taking no real action.
In other words, the starting point is not: "How can I control an autistic individual's behaviour to have him or her behave as I please?"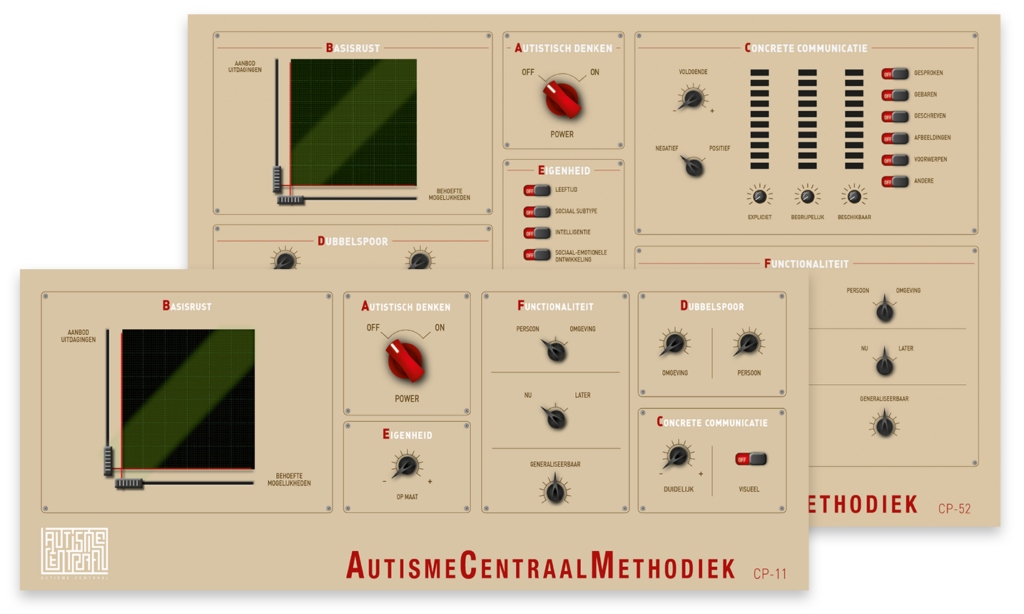 CREATING A WORLD THAT IS UNDERSTANDABLE TO PEOPLE WITH AUTISM
The control panel of Autisme Centraal is a tool that supports rigorous self-reflection. It helps you to monitor your approach and your vision. You take control of your actions as a carer or parent of a unique individual with autism.
With no less than 52 buttons and sliders, the panel inspires you to reflect on how you can make the world comprehensible to someone with autism.
The Autisme Centraal panel helps you to gain insight in what works and what does not work, but – more importantly – is a source of inspiration for the people you are supporting.
Our aim is to help people with autism take control of the opportunities and pitfalls they encounter every day.
CLICK HERE FOR MORE INFORMATION & TO DISCOVER THE CONTROL PANELS
Wat onze cursisten zeggen